Christmas Market Madness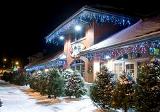 ESTRIE: A delightful form of madness has gripped the organizers of this year's Christmas markets, to the great satisfaction of consumers on whom their creativity is not lost and which entices us into making purchases and discovering gastronomical and artisanal delights, in a festive atmosphere which is both exuberant and effervescent. This energy has prompted CIBLE, the organization which promotes events involving les Créateurs de Savours, under the auspices of its director Vicky Villeneuve, to include, on its website, a list of Christmas markets in Estrie: Danville, Lingwick, Lac-Mégantic and Sutton. The message is clear: "purchasing one of these unique gifts, you will be contributing to the prosperity of your corner of the region... you will discover not only a festive atmosphere but also your friendly neighbors". For myself, I had the pleasure of purchasing goat cheese at the Christmas market in Lingwick, which was held on December 8.
In speaking of the traditional Christmas market and similar ones taking place throughout Estrie, from November 22 - December 31, one in particular comes to mind – the Christmas market held at the Marché de la gare (Sherbrooke train station), featured in the downtown area, with access to Lac-des-Nations, the Grand Times Hotel and the dispatching platform for the tourist train, the Orford Express, a location of great interest for both local residents and tourists, alike. Inside the market, you will find food shops and gourmet delights (sausages, cheeses, pastries) as well as the restaurant Savoroso. Outside, you can't miss the huge Christmas tree, illuminated with 30,000 LED lights, amidst an enchanted forest ... near the big ferris wheel, all a-glitter in the evenings. The legendary Santa Claus will be present to delight kids and parents alike, Saturdays and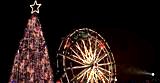 Sundays from December 1-24. You will also want to take in the Village des artistes et artisans (from Thursdays to Sundays)... a veritable array of attractions that is sure to please!!
For the first time, a frozen pathway has been created which will remain until March 10, 2013...offering a golden opportunity for skaters of all ages and expertise – good weather or bad... a surface of 650m2, complete with heated facility in which to change your skates.
Information: www.marchedelagare.com
****
Photos: Destination Sherbrooke