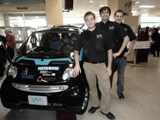 SHERBROOKE: One can only imagine all the emotions felt by our ancestors, at the moment of their first voyage by steam train or, later, by gasoline-powered automobile. These dreams were strongly upheld for a long time, without any consideration for pollution... These emotions surpassed time, through our respective genetic code, to re-appear, in 2012, in regard to another dream with our range: the electric car. The economic, social and environmental economic situation of today works like a tuning fork for the ecological aspirations of our century. Admittedly, in later years, in comparison to Europe, North America has experienced a delay in effecting the fight against pollution caused by greenhouse gases.
All the fundamental elements are in place to realize the dream of operating an electric car on a daily basis, for a majority of consumers, at a reasonable cost, by taking into account the governmental program which offers a reduction on the purchase price of such a vehicle... the Revolution of the electric car has rapidly been growing in Quebec since August 14 of last year. In Estrie, the City of Sherbrooke has opened the door to the

"electric circuit", "a Québécois network of public recharge terminals, set up by Hydro-Quebec (as of March 2012 -- a network of 90 -240v terminals which now also exists in the regions around Quebec and Montreal. The contribution of the electric car manufacturers such as Chevrolet is very creditable. Regarding Mercedes-Benz, one is filled with enthusiasm, impatiently awaiting the arrival (spring of 2013) of the Smart Fortwo, both coupe and convertible, entirely electric... at a price defying competition....
The City of Sherbrooke, in partnership with Hydro-Sherbrooke, is determined to face its own challenge to cut 5% of its 90% greenhouse gas emissions between now and 2015. It must effectively activate its plan for durable mobility, in both short and long-term, put in place by the Centre de Mobilité durable. The City did not hesitate to install four public recharge stations for electric cars which are located respectively, in the parking area of the Marché de la gare, Plateau Sylvie-Daigle, the Centre récréatif de Rock Forest and la Grenouillère. The expertise of both Hydro-Quebec and CAA-Quebec will be available on a 24h/7day basis. The City of Sherbrooke will also purchase an electric vehicle for the Green Patrol, to be used during tourist season and occasionally for representatives of the

Environmental Division... a resurfacer, electric pods and a Nemo electric truck will also be purchased.
On December 4, 2012, during the 2nd edition of the Exposition Génius, sponsored by the Faculty of Engineering at the University of Sherbrooke, visitors could meet the two groups of graduating students in electrical engineering and data-processing and a group from mechanical engineering studies, with the added participation of international students who presented their joint project SEEN (electric urban vehicle), all of whom were intent on 'developing an electric motorization system, with independent engines, actively controlled and integrated into a Smart car".
The shiny, ultra powerful Smart car propelled by 2 engines Emrax 40kW, with 2 SAC41 and 2-reducers. Consumption is at a rate of 25kWh/100km with an acceleration of 0 - 60km/h in 6.5 seconds. Maximum speed of 100k/h is reached within 10km. This experimental project has been made successful thanks to a budget of $100,000 and contributions from 61 sponsors. In 2013, the Smart Fortwo electric drive, both coupe and convertible, white and green, in European ecological colors, will make its entry onto the North American market and is being highly anticipated by many Townships' consumers -available in the spring at Mercedes-Benz dealers in Sherbrooke.
Already operational (since 2007), in the streets of London and elsewhere in Europe, this
type of vehicle will revolutionize our lives in urban regions and, from all reports will meet our expectations... lightweight and high performance, it should be as well received in the countryside for the independence it can provide, when at full charge. Lightweight and high- performance, it will be able to provide autonomy: at full charge - up to 160km, with a maximum speed of 125 km. Its originality involves a three-spoke steering wheel with cruise control and range for manual recovery of energy. The cost will be $26,000 minus $8,000 (government rebate) for a total of $18,000. The governmental program "Roulez électrique" of the SAAQ, dated January 1, 2012, proposes substantial reductions up to $8,000, for electric vehicles and rechargeable hybrids. A reduction of $1,000 is being offered for non-rechargeable hybrids and low-speed electric ones. We must profit from this good cause and join the fight to control pollution.
****
Photos: -Myriam Sainson
-La Ville de Sherbrooke