AIRMEDIC: A Valuable Asset

COOKSHIRE-EATON: The terrible drama over the last few weeks involving Neptune Technologies of Sherbrooke, to some extent, has clarified the benefits of an airborne rescue service for severely wounded persons in urgent need of reaching Montreal hospitals. These injured people were transported by two helicopters from the young AIRMEDIC Company, which specializes in the urgent airborne transport of both members and non-members alike, throughout Quebec.
On December 5, at the Sherbrooke Airport, Christian Trudeau (President and General Manager) and François Rivard (Chief of aero medical operations) who also own the company, met with Bernard Sévigny (Mayor of la Ville de Sherbrooke) to announce the excellent news that they would be creating their 6th operational base in Cookshire-Eaton, in the Haut-Saint-François region.
Founded last May, Airmedic has already established 5 other operational bases, throughout Quebec: Saint-Hubert, Mont-Tremblant, Saguenay and Chibougamau; with a hundred employees and a fleet of five helicopters and a Pilatus plane, each of which is fully equipped with the highest quality of medical equipment available. Once alerted, takeoff time is 10 minutes. Their slogan is "AIRMEDIC is here for everyone ».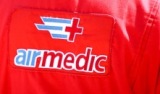 This is particularly important for the Cantons-de-l'Est considering that the targeted clientele are representative of an abundance of outdoor sportsmen who could find themselves at risk of an accident or in need of medical attention. We refer more precisely to skiers (Mount-Orford, Mont Mégantic, etc.), snowmobile enthusiasts, hunters, fishermen, cyclists and hikers. However, this service could also prove invaluable during the busy festival season and specifically during large events such as the Canada Games (August 2013).
For Mayor Sévigny, "the population will benefit from a nearby emergency airborne service, a service which is being provided without any investment from Sherbrooke taxpayers. Moreover, the presence of AIRMEDIC at the Airport of Sherbrooke constitutes an important advantage in terms of attracting other carrier companies; very few airports of this size can count on the presence of emergency medical intervention specialists".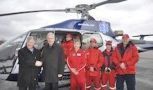 Christian Trudeau is proud to have chosen the Sherbrooke Airport as a location: "The site of the Sherbrooke Airport fits perfectly within the development strategy of our company". Christian Trudeau was President of Transcontinental Interactive as well as President and Chief Operating Officer of ECB Energis. He was also Division Head of Electronics at Bell Canada.
The only service of its kind in Quebec, AIRMEDIC proposes a membership at a more than reasonable cost: annual fee of $120 which includes all intervention costs; $150-$250 for families, depending on the number of adults involved. Services can also be arranged on a temporary basis: 14 to 28 days.
Information: 450-766-0770, ext. 608 or http://www.airmedic.net/
****
Photos: - (1)Myriam Sainson
- Courtesy of AIRMEDIC