Reid to back Couillard Candidacy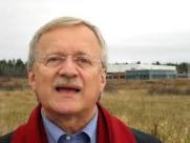 MAGOG - Orford Deputy Pierre Reid released a statement recently stating that he would be backing Philippe Couillard in the race for leadership of the Quebec Liberal Party. The decision to support Philippe Couillard comes after a self-imposed time of personal reflexion by Deputy Reid which Reid noted also had the added purpose of allowing the members of the Liberal Association of Orford to make their own choice.
Before announcing his personal choice, Deputy Reid wanted the members of the Orford association to have a chance to make their own choice, without being swayed by his position. The members would thus be given all the latitude and time they needed to reflect on this issue. Reid noted that he was aware of the fact that within the liberal Association of Orford, support is divided between Raymond Bachand, Philippe Couillard while others have put their vote towards Pierre Moreau. He sees this kind of division as the reflection of a healthy democracy.
Considering that the three principal candidates all have the necessary qualities to lead the liberal Party of Quebec and to possibly become Premier of Quebec, Pierre Reid points out that he does not foresee any difficulty in working alongside whichever candidate should win, pledging his full support to the winner.
Deputy Reid noted that he found it really difficult to make a choice, having had the privilege of working with Philippe Couillard at the Council of Ministers where he had been Minister of Health and Social Services and Reid had held the position of Minister of Education. Working alongside Couillard on various committees, Reid was able to witness first-hand the strength of Couillard's numerous personal qualities, to deal with situations when they arose. Reid points to these experiences as the reason why he has decided to put his support behind candidate Couillard. In Reid's mind, the leadership race of the Liberal Party of Quebec has prompted the candidatures of some exceptional people.