Granada Theater holds fundraiser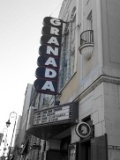 SHERBROOKE: On March 13, a benefit evening will be held at the Granada Theater (6:30p.m.) as a fundraiser to help with the restoration and renovation work needed on the theater, a project which began in 1977, when the City of Sherbrooke became the owner of this historic landmark. Currently, it is Animation Centre-Ville that manages the establishment.
Built in 1928, with the subsidiary Famous Players as owner, the doors were opened for the first time on January 18, 1929, decorated in the then current period style, imposing and magnificent. This evening will also be remembered for its spectacular performances, with a return visit by the famous Glenn Miller Orchestra, who will also perform in Sherbrooke in the coming months. One cannot easily forget their last performance at the Granada (April 28, 2012), a concert which I had described in a review that I wrote at that time for Rythmebeat: "a blazing and colourful performance, with the fifteen or so musicians dressed in rich-looking red outfits, a group known as the "Moonlight Serenaders…". The international reputation of this swinging New York-style jazz band, under the energetic direction of Nick Hilscher, has become even more established, since the sudden death of the Master - Glenn Miller, during the Second World War.
This exceptional occasion is destined to delight both the participants and sponsors of the theater; the meal will be artfully arranged on the dance floor area and enjoyed while listening to the glorious airs of "Moonlight Serenade", "Don't sit under the apple tree - with anyone else but me", "Chatanooga Choo Choo" - of 1941 fame, and a wealth of others even more enchanting, in addition to many romantic melodies for the dancers! The menu will include an array of gastronomical delights… with an appetizer of 'crèpe stuffed with goat cheese and
smoked salmon with leek sauce and a potage of crécy carrot with orange and ginger'.
The main dish reserves a supreme surprise for gourmets: a bourguignon reinvented with sirloin strips, layered with braised Portobello mushrooms combined with creamy onion soup, flavored with burgundy wine, accompanied by cheesy scalloped potato and julienne vegetables.The dessert is a sublime berry delicacy with a taste like something from Grandmother's kitchen, served with coffee or tea. A vegetarian menu will also be available upon request.
The souper-spectacle is $150 - taxes and tips included. The performance alone, beginning at 8:30p.m., will be $58, both floor and balcony-seating alike.
For reservations: 819-565-5656, ext. 223 or www.theatregranada.com