Foreman Gallery presents Reel Injun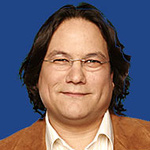 LENNOXVILLE: The Foreman Art Gallery presents a screening of the documentary film 'Reel Injun (2009)', on February 12 (7p.m.), with guest appearance by CBC pop culture columnist Jesse Wente. The film will be screened in English with French subtitles. Admission is free.
Jesse Wente is the Head of Film Programs at TIFF Bell Lightbox. Wente has also been a programmer for the Imagine-NATIVE Film and Media Festival. He is well-known as a film critic and broadcaster in Toronto and across Canada. He is the pop culture columnist on CBC Radio's "Metro Morning", and has also been a regular guest on CBC Newsworld's "News Morning" and "Weekend Edition" as well as Q, and TVO's "Saturday Night at the Movies".
About the film: "Hollywood has made over 4000 films about Native people; over 100 years of movies defining how Indians are seen by the world. Reel Injun takes an entertaining and insightful look at the Hollywood Indian, exploring the portrayal of North American Natives through the history of cinema. "(www.reelinjunthemovie.com)
'Reel Injun', the documentary by Cree filmmaker Neil Diamond, was honoured with a prestigious Peabody Award (2011), recognizing the best in electronic media, putting the film in the company of projects as illustrious and diverse as the legendary series Roots.
Peabody Award winners are determined by one criterion – "Excellence." Because submissions are accepted from a wide variety of
sources and styles, deliberations seek "Excellence On Its Own Terms." Each entry is evaluated on the achievement of standards it establishes within its own contexts. Entries are self-selected by those making submissions and as a result the quality of competing works is extraordinarily high. The Peabody Awards are then presented only to "the best of the best."
At the star-studded 25th Annual Gemini Awards (2010), Reel Injun took home three awards, including the prestigious Canada Award, a prize designed to recognize work that explores the racial and cultural diversity of Canada by fostering greater awareness. Reel Injun also took home the award for 'Best Direction in a Documentary Program' and 'Best Visual Research', in addition to being a runner-up for the 'Donald Brittain Award for Best Social/Political Documentary Program' and the 'Award for Best Original Music Score for a Documentary Program or Series'.
For more information, please contact: Stephanie Nadeau, Curator, Education & Cultural Action, 819-822-9600, ext. 2279 or This email address is being protected from spambots. You need JavaScript enabled to view it.