Centennial: Madcap Mondays Series Winds Down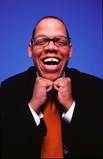 LENNOXVILLE: The final show in the series 'Madcap Mondays', offered by Centennial Theatre, comes to a close with an exciting performance by comedian Greg Morton (March 25, 2013; at 7:30p.m.). Returning from a week-long engagement at the Tropicana in Las Vegas, Morton is known for his impersonations of celebrities and fictional characters which have found their way into his two trademark routines, scenarios which condense the Star Wars saga and the Lord of the Rings trilogy into two minutes each, complete with voices, mannerisms and sound effects.
A regular guest on the Just For Laughs circuit, Morton can also be found on YouTube, where his song "Obama Man" (to the tune of "Candy Man") has been seen by over 3 million viewers. In his more than 20-year long career in comedy, Greg Morton has been described as "Mr. Standing O", "a whining cross between Jerry Seinfeld and Jerry Lewis" and "bizarre, original, slick and hilarious." But once you have seen him perform, you'll want to add: Greg Morton -- "The Ultimate Stand-Up Comedy Act."
A native of Woodstock, Ontario, Canada, Greg began his career not by telling jokes, but as an illustrator for such animated shows and films as "Scooby Doo and Scrappy Doo" and "Heavy Metal." However, a career at the drawing table was not enough to satisfy Morton's extroverted, restless nature. He put down his drawing pencil and took up the microphone as a mobile DJ, and performed at clubs where he played records, told jokes and did comedy skits between tunes.
It was following one of these DJ gigs in an Edmonton, Alberta club that fielded the inspiration for his signature Star Wars routine. In 1986, following stints doing voicework and directing animated productions, Greg Morton combined his talents for joke telling, voice imitations and spinning records, making the transition into the world of stand-up comedy. Greg never forgot his cartoon roots; his talent for voiceover performances is still very much in demand. His voice can be heard in such animated productions as "Police Academy", "Super Mario Bros. 3″, "Hammerman" and "Hello Kitty".
The 2013 'Madcap Mondays' series began with a double-bill performance featuring comedian/ magician David Acer and comedian/writer David Pryde, in late January. Pryde decided to forsake his new journalism degree and trade freelance reporting for the much more liberating world of stand-up. Pryde has performed in the USA, the U.K., and Australia, and frequently in Canada, including three 'Just for Laughs Galas', his own special on CTV's Comedy Now, and regular appearances on The Debaters – both radio and television versions. In more recent years, he appeared on The Tonight Show with Jay Leno.
David Acer, known as a Gemini-award-nominated writer and comedian, has done crazy things on television shows around the world, like protesting outside a train station dressed as a giant penny while inviting people to lie down on the tracks to "see how it feels."//He has had his own special on The Comedy Network and appeared on a multitude of international specials, not to mention live at The Riviera in Las Vegas, The Magic Castle in Hollywood, and 10 times at the Just For Laughs Festival in Montreal.
David Acer is also a world-class sleight-of-hand artist who has performed and lectured for magicians around the globe. In 2009, The Canadian Association of Magicians named him Magician of the Year, and in 2010 he was featured on the cover of the American magic magazine, Genii, the industry's oldest and most respected periodical. He has also published four books of his original tricks, the latest, More Power To You - in 2011.
This series is a perfect example of the high quality of entertainment that is brought to you by Centennial Theatre, at Bishop's University. For more info on current and upcoming artistic performances, contact 822-9692 (Box Office); www.centennialtheatre.ca